A royal coffee blend that at least for a moment brings you total happiness and greatness!
This dignified coffee blend contains Indian Monsooned Malabar coffee, which is perfectly full-bodied in nature and has a really low acidity. In addition, this royal blend includes Colombia Excelso coffee which is blissfully fruity and has a delicious taste of sweet caramel.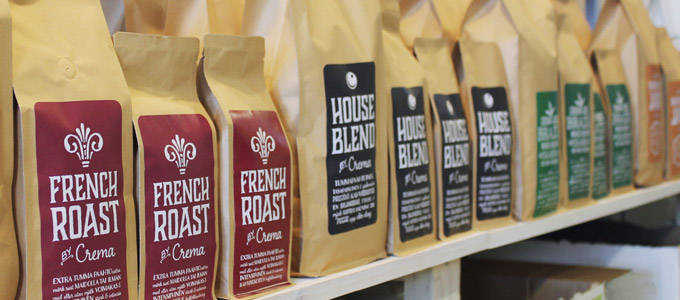 Crema's Own Coffees
Our own coffees are high-quality alternatives for those who value a good cup of coffee. For more than a decade we have listened to our customers' wishes and thoughts about how good coffee should taste.
Based on our experience with our customers, we have developed our own tasty coffee selection.
Crema's coffee is roasted by hand, always in small batches to ensure the best quality.
Taste profile
A blend of light and dark caramel with fudgy sweetness. Balanced by a defined bitterness.
Body
Sweetness
Acidity
Bitterness
Brand Crema
Product number

2371
Similar coffees
---
Our customers also bought
Customer reviews
Overroasted and not tasty!
Y.I.
The blend has no indication of roast level on the pack? That's strange. In reality it is highly overroasted - beans are dark and even oily. Smell and taste is not good at all at least in prosumer espresso machine (Lelit Elizabeth with Eureka grinder). Do not recommend.
Hi!
Thank you for your feedback! I'm very sorry to hear about the issue with the coffee. Could you please contact our customer service and we will look at this together? .
Crema Royalty Blend 1 kg
Coffee has been quite bad. Had high expectations. It was very recently roasted so espresso was coming out with a lot of gas. Not good
Hi Sergio! Thank you for your feedback! We try to keep our storage as fresh as possible and sometimes it means that the coffee we ship has not yet developed to the full pallet of taste. You can slightly speed up the process by keeping the bean bag opened so the beans get in touch with air. Maybe give them another go after awhile, they might surprise you!.
Crema Royalty Blend
Awesome Blend
This blend has all the flavors I love.
Delicious
Inguna
The aroma, the taste - absolutely fantastic.
Interesting
asta
For me this blend tasted lighter than my normal blends (Mocambo gusto or J&N la Bomba) without citrus (which I try to stay away from) So this was an interesting experience. (Machine: Rancilio)
Crema Royalty Blend 250 g
S.P.
Herkullinen kahvi
Pitkäaikainen suosikki
P.S.
Kunnon tumma kahvi
Kunnon kahvia
V.P.
Hyvä kahvi tummasta paahdosta nauttiville.
Vakkrikahvi
A.S.
Aina luotettava, maistuu niin juhlissa kakun kanssa kuin arkisempana aamukahvinakin.
Yksi parhaista
R.K.
Vuosien takainen tuttavuus. Varma valinta. Tulee myös hyvä cold brew.
Pehmeä arominen laadukas kahvi
J.K.
Erittäin miellyttävän makuinen kahvi. Pehmein tietämäni makuelämys.
Erinomainen
C.L.
Vahvan hyvän makuinen kahvi. Yksi luottokahveistani!
Maukas kahvi
H.R.
Juhla Mokkaan tottuneelle tämä on ihan luksuskahvi, maistuu hyvin myös maidon kanssa.
Varma klassikko
J.V.
Täyteläisen herkkukahvin ystäville passeli valinta.
Crema Royalty Blend 3 kg
K.N.
Ykkössuosikki paahdetuista pavuista.
Hyvä peruskahvi
N.M.
Hyvä peruskahvi
Pehmeän kahvin ystäville
E.P.
Erittäin hyvä kahvi, makunautinto joka kerta.
Ei hassumpi
miika
Oikein jees kahvia, ja pussin pieni reikä josta voi kaataa papuja on kätevä. Maulta jäin ehkä odottamaan hieman enempää, mutta eipä ole negatiivista sanottavaa. Maukas ja lempeä
Lempeä maku
MP
Pehmeä ja hellävarainen vatsalle vaikka enemmänkin lipittelisi.
Parasta kahvia mitä olen juonut
E
Kahvi on erittäin hyvää. Jopa henkilö, joka yleensä käyttää maitoa kahvissa, sanoi että tätä voi juoda ilman maitoakin.
Huippu maku
Tuketus
Paras maukkain ja pehmein kahvi mitä olen koskaan maistanut 🤤 jatkoon ihan satasta.suosittelen
Yksi parhaista kahvista
Sointu
Hyvä maku ja sopiva paahto. Tykkään tästä papukahvista...arkikahvia parempi..
Hyvää
Antti
Hyvää peruskahvia, jatkoon!
Käytetty Aeropressin kanssa.
Nam
SK
Tosi hyvin omaan makuun sopiva kaffe, BTC -automaatissa tulos tosi hyvä.
Crema Royalty Blend 500 g
Otso70
Mahtavan makuisen kahvi. Suosittelen kaikille tumman kahvin ystäville
Voiko päivä enää ihanammin alkaa..
Raisa
Myönnän, ostin tämän aivan umpimähkässä. Luin vain arvosteluita, että ilmeisen hyvä kahvi, mutta hieman pelkäsin että ehkä tämä on huti kuitenkin. Vaan eipä ollut.
Nimensä veroisesti kahvi on suorastaan kuninkaallinen ja aivan taivaallisen makuinen. Aamuisin kun vetäisee tätä klo 05.15 ja ulkona on pimeää kuin mörön persiissä, niin kieltämättä maku palauttaa hiljalleen uskon ihmiskuntaan ja siihen, että ehkä se kevät vielä tulee. Ostan toistekin!
Crema Royalty Blend
Kalevi Poeg
Teimme mutterilla kahvit ja oli nautinnollista.
Makeahko ja miellyttävä
MVa
Mukava makeahko kahvi päiväkahviksi. Ei tällä aamua saa käyntiin, mutta muuten oikein mukava. Joku sivumaku, mutta tulee kyllä juotua.
Kahvien kurko-oletettu
Manu
Maukas ja korkealaatuinen, kuten lähes kaikki tilaamani Creman tuotteet.
Viisi tähteä plus
Pekka K
Tämä oli yksi synttärilahja-kokoelman kahveista. Kovasti oli mieluisa. Pressopannu ja cafe au lait. Suosittelen lämpimästi Creman omia papuja. Kokoelman suosikki!
2/5
Good Coffee
Hieman liian pliisua näin vahvan kahvinystävälle.
Suklainen karkki
jooka
Maistoin tätä ensi kerran jouluna. Tuntui sopivalta tilata, kun makuina mainittiin mm. suklaa. Ja kyllä, tämä lunastaa paikkansa ainakin omassa lattessa. Suklainen makeus maitokahvissa toimii erinomaisesti. Jos haluat vaihtelua, kannattaa tätä kokeilla.
kahvi
angel
se sopii maidon kansa- erinomainen tumman kahvin ystäville
Mielestäni paras Creman omista kahveista
Hyvä kahvi
Royalty blend
Maux
Pehmeä ja maukas kahvi, herkutteluun ja arjen "my moments"-hetkiin.
Ei jatkoon
Pettymys
Kummatkin tähän sekoitetut pavut on yksinään parempia, tämä oli todella pettymys. Ei tarvitse ostaa toiste.
Crema Royalty Blend 250 g
Papu
Oudon makuinen kahvi, ei tasainen maku, vaan hyvin pistävä
French Roast?
Luulin ostaneeni enemmän French Roast-tyylisen kahvin. Ei täysin vastannut odotuksiani.
Hyvä peruskahvi
Anku
Tykättiin koko perheellä
Hyvää ja haastavaa
SS
Maku on upea ja cremaa paljon. Mutta onhan haastavaa saada resepti kohdalleen, sinkkukahvalla onnistuu mutta tuplalla ei vaan millään. Hyvä opettamaan sitkeyttä!
Löytö !
EevaW
Yllättävän hyvin sopii aamukahviksi, ei kovin vahvan makuista vaan sopivaa.
Crema Royalty Blend.
Jykä
Pehmeä, vahva vaahto, hieman ohuen oloinen. Mutta miellyttävä.
No mutta. Kokeilu kannatti!
JayMann
Osasin odottaa hyvää, mutta ensikerta aina vähän jännittää. Kahvista tuli vaimolta heti palautetta ja nyt pitää sitten tehdä kestotilauksena...
Royalty - nimensä mukainen
Kahvin ystävän parhautta
Tumma, suureen tunnenautintoon sopiva.
Hyvää
Kapa
Hyvää, mutta ei ihan täydellistä
hyväähän tämä
flop
Oikein mainio muttei välttämättä mitenkään ihmeellinen
Tähän palaan usein
Mielestäni parhaita tummia suodatinkahveja (juon kahvin mustana). Itsellä valmistusmenetelmänä Clever Coffee Dripper ja ostan kahvin papuina
Uusi suosikki
Jadepupu
Ostin testiin hetken mielijohteesta. Oikein herkullinen kahvi, jonka huomasin etenkin siinä vaiheessa kun pakkaus loppui ja siirryin takaisin käyttämään muuta kahvia. Silloin tuli ikävä tätä. Täytynee ostaa uudestaan :)
Uusi suosikki
Jadepupu
Ostin testiin hetken mielijohteesta. Oikein herkullinen kahvi, jonka huomasin etenkin siinä vaiheessa kun pakkaus loppui ja siirryin takaisin käyttämään muuta kahvia. Silloin tuli ikävä tätä. Täytynee ostaa uudestaan :)
Pehmeää
SP
Pehmeä ja miellyttävän makuinen papu. Hariolla toimii hyvin.
Huippusekoitus
Tilimies
En ole vielä löytänyt parempaa.
Nam
Tabispanda
Sopiva aamukahviksi, Aeropress jauhatus oli sopiva
Maukas uusi tuttavuus
Ihana tummasävyinen sekoitus, jonka moniulotteisesta mausta todella pidän sekä pressopannulla että käsin suodattamalla valmistettuna. Tätä hankin lisää!
Kahvien aatelia
TomiK
Lempeä ja pehmeä tumma paahto, joka käy päivän jokaiseen hetkeen ja päihittää mennen tullen monet hintavammat kahvit.
Oma suosikki
Ei pettänyt tälläkään kertaa
Hyvä ja maukas
Meritli
Mielenkiintoinen ja monivivahteinen. Omaan makuun aamukahviksi vähän liian makea, kun kaipaan enemmän karvautta ja tummuutta. Mutta hyvää on!
Suosikki
Markku
Omaan makuun täydellisesti sopiva kahvi. Täydet pisteet.
Crema Royalty Blend 500 g
ellu24
Pojalle synttärilahjaksi! Hän olikin iloisesti yllättynyt laatukahvista!
Joululahjakahvi
Kristiina
Tämä oli kiva lahjoittaa tuttaville
Hyvää suodatinkahvia
Antti
Hyvää tummapaahtoista kahvia. Pehmeä maku, ei kitkeryyttä. Oikein hyvä esim. arkikahviksi.
Suun mukainen kahvi
Tämä on yksi oma suosikkini jota tilaan kun kaipaan hyvää suodatinkahvia. Valmistan kahvin clever coffee dripperillä ja ainakin siinä tämä toimii oikein hyvin
Kahavia
Expesso
Easy muttei luonteeton.
Aamujen ilo
Ilona
Suodatinkahveista ehkä suosikkini. Pressopannulla kunnolla botnea ja diskanttia.
Crema Royalty Blend 250 g
Tiina
Omasta mielestä sopi parhaiten jääkahviin
Vau!
JL
Pehmeä, runsas ja monivivahteinen kahvi. Nimensä veroinen.
Kahvinautinto
Annemaarit
Todella hyvä kahvi, jatkoon!
Jumalten kruunukahvi
Sumppimuhveli
Turhaan ei tämä kahvi kanna nimeään, sillä makunsa puolesta moinen musta nektari hurmaisi puolelleen kaikki aistivat olennot, heerokset ja jumalat. Lyhyesti sanottuna: Todella hyvä kahvi, suosittelen.
Vahva, lempeä maku kahvi!
tuulas
Tykkään!
Erinomainen yllätys
MS
Tilasin hetken mielijohteesta, onnekseni. On korvannut toistaiseksi vakiokahvini House Blendin aamunektarina.
Hyvää kahvia
Katja
Käytän cold brew -kahviin ja hyvältä maistuu.
Kahvi
Morsian18
Nopea palvelu. Tuli mitä tilasi.
Hyvää!
Mikko
Miellyttävän pehmeää kahvia. Toimii ainakin Jura-kahviautomaatilla oikein hyvin pitkänä kahvina, mutta myös espressona.
Parasta kahvia
Niko Saarelainen
Todella hyvä arki-kahvi.
Hyvä kahvi
TM
Pehmeän voimakas kahvi. Tykkään. Sopii paremmin kauramaidon kuin mantelimaidon kanssa.
Crema Royalty Blend 500 g
RT
Todella hyvä kahvi, tilaan tuevaisuudessakin
Crema Royalty Blend 250 g
PK
Liian tummaa omaan makuun.
Plussaa
Juhis866
Suosittelen
Kahvi
Pahvi Kapu
Oikein hyvää
Hyvää kahvia
Tonto
Melkoisen erinomaista kahvia. Muutaman paketillisen jo imuroituani tätä suodatinkahvina voin edelleen todeta makurikkaan sekä laadukkaan kahvikokemuksen olevan todellinen. Takuuostos Cremalta.
Hyvä peruskahvi
Päivi
Hyvää peruskahvia, ostan toistekin. Kannattaa kokeilla.
Liian tumma
RR
Niin tummaksi paahdettu, että pavuissa on öljyisyyttä. Eli aivan liian tummaa suodattimelle, pour overille yms. uutoille ja jopa aeropressille, että saisi mitään vivahteita irti. Sopii ainoastaan espressoon.
Erinomainen kahvi
MF
Tästä tuli uusi arkikahvi. Erinomainen maku ja hinta kohdallaan.
Kuninkaallista makua!
Tämä on yksi parhaita kahveja, joita olemme kokeilleet. Capuccino tai espresso, hyvin sopii. Capuccino on melkein kuin kaakaojuomaa. Makuja on tietysti monia, mutta suosittelen kokeilemaa. (Rancilio Silvia)
Herkullista kahvia
Uusi lempikahvini
Crema Royalty Blend 1 kg
Paras Creman omista kahveista. Todella hyvä, reipas aamun käynnistäjä.
Erinomainen kahvi
Tästä tuli suosikkini.
Vahvaa ja hyvää
Nyt oli sen verran positiivinen yllätys mustan kahvin juojalle että tätä tulee varmasti tilattua toistekin.
Crema Royalty Blend 250 g
I.G.
har inte hunnit testa kaffet ännu
Crema Royalty Blend 250 g
B.H.
Brygger espresso

För mörkrostad för min smak
Over-roasted beans
A.A.
This is my second time purchasing these coffee beans. The first purchase was excellent and I decided to order it again. However, unlike the first time, the coffee beans were poorly roasted. The beans seemed to be over roasted, oily and there was a burnt taste to it. Hence, I had to discard the entire packet.
A very disappointing experience.
Hello and thank you for your feedback! We would love to look into this issue more closely with you. Could you please contact our customer service?.
Okej.
L.H.
Okej men inget speciellt.
Nöjd kund
J.B.
Bra när man vill ha ett extra gott kaffe.
Gott Kaffe
M.L.
Fantastiskt gott kaffe. Kommer absolut att köpa det igen.
Crema Royalty Blend 250 g
Norbert
Jag provade denna 3x under senaste två år. Den är god men jag tycker att den för svag (samma ratio som jag kör med andra), det går att köpa bättre och billigare kaffe på lokala matbutiker tyvärr
Smakar som 50-talet.
LL
Jag är inte jätteförtjust i mörkrostat kaffe så den här recensionen är ganska färgad av min subjektivitet i frågan, men det finns ändå lite att säga även för de som gillar när det blir ordentligt rökigt.

Detta är nog det rökigaste kaffet jag har testat. Säkerligen inte det rökigaste som finns att köpa men ändå. Redan när jag öppnade förpackningen fick jag lite onda aningar. Blev inte bättre efter malning. Jag bryggde en pour over med ration 65g per 1000g vatten. Blev 15g kaffe till 230g vatten.

Smaken är väldigt intressant, tyvärr inte på det positiva sättet. Jag får toner av motorolja, cigarrfarbror och gammal hatt. Tänker mig att det här kaffet smakar ungefär som V-Gurras röksalong back in the 50s. Om man lutar åt mer lättrostat eller mellanrostat kaffe och är intresserad av att känna vad kaffet faktiskt smakar så skulle jag inte rekommendera detta.

Däremot om du har nån släktning du inte gillar och behöver köpa en present till dem eller om du typ inte gillar kaffe men vill straffa dig själv på något slags masochistiskt vis så kan detta vara en bra idé.
Jättesvag
Marcus
Jättesvag verkligen. Måste ta många fler mått än rekommenderat för att få någon som helst kaffesmak. Måste varit något fel på denna rostning.
Crema Royalty Blend 1 kg
Karin
Min absoluta favorit, svårt att återgå till annat kaffe nu när jag köper denna sort.
Köper som pressomalet och kör i min lilla kaffepress!
Gammalt kaffe
Mathias
Hållbarheten hade knappt 2 veckor kvar när vi fick det. Beställ inte stora kvantiteter!!! Smaken var väl gott, men du kan hitta samma kvalitet och smak för tredjedel av priset i matvarubutik.
Hej Mathias, jag är ledsen att höra att det tydligen har varit ganska gamla bönor på din beställning. Kan du kontakta vår kundtjänst så att vi kan hjälpa dig med detta problem?.
Crema Royalty Blend 500 g
Bra tydlig hemsida Snabb service
Ingen favorit
Henric Dageus
Lite för träig för min smak. Ska prova lite ljusare rostning nästa gång och se vad jag tycker om det.
Ett kaffe att återkomma till!
Marcus
Ett mycket trevligt lite mörkare kaffe med härlig varm harmonisk doft och en fyllighet som verkligen passar till fika och frukost. Det är spännande att ge sig ut i ljusare rostningar men trevligt att komma tillbaka till ett habilt finskt kaffe! Perkele vad bra!
Nyrostat
TF
Kanonbra, lite mörkare än kaffet jag oftast dricker men underbart gott. Stort plus att det var rostat bara några dagar innan jag fick det
Smakupplevelse
Christopher
Ett kaffe som är så god och fyllig med mycket smak. Man känner sig nöjd med 1 kopp. Inte som blasket på jobbet.
god smak, men inte så starkt
Lazze
luktar ljuvligt o smakar gott. Men blir inte så starkt även med en större mängd
Supergod som cold brew
Karin
Gör denna som cold brew, fungerar jättefint.
Gott
Magnus
Motsvarade till fullo beskrivning och förväntan
Bäst
Yvonne
Bästa kaffet, min favorit
Bra kaffe
Akke
Bra smak, men jag upplever det som för mild för min smak.
Nästan perfekt kunglig blandning
SL
Skulle kunna ge fem stjärnor men vill vara lite snål. Här har vi det jag söker i kaffe. Hög beska, hög sötma och låg syra coh fruktighet. För mej så är detta en njutning men ett kaffe som jag vill dricka i stillhet och inte slänga i mej på morgonen. Ett bjud och njutkaffe som jag med eftertanke njuter på eftermiddagen vid 18.00. Kan rekommenderas varmt och jag behåller de åpaket jag köpt och njuter för mej själv
Jätte gott
Tobias
Jätte gott kaffe bra smak!
Toppen!
Rebecka
Fantastiskt bra kvalité och riktigt prisvärt!! Kan bara varmt rekommendera. Jag kommer göra fler beställningar.