Bursting with flavour!
Crema Indonesia Java is an excellent choice if you love medium roasted coffees with a lot of flavour and a low acidity.The single origin coffee is full bodied and you can find both spicy and fruity aromas in it. This high quality artisan coffee is roasted in small batches and is 100 % Arabica.
Enjoy a great cup of Java!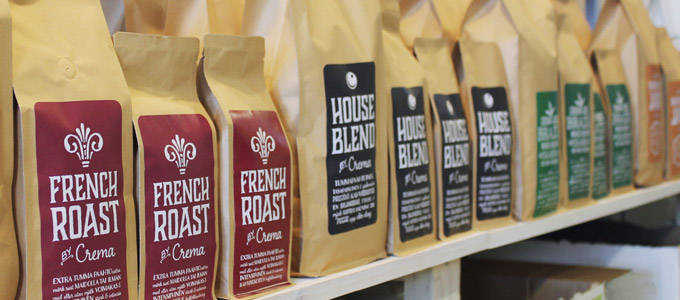 Crema's Own Coffees
Our own coffees are high-quality alternatives for those who value a good cup of coffee. For more than a decade we have listened to our customers' wishes and thoughts about how good coffee should taste.
Based on our experience with our customers, we have developed our own tasty coffee selection.
Crema's coffee is roasted by hand, always in small batches to ensure the best quality.
Taste profile
The aroma has a green lightness and sweetness. The taste is round, full bodied and has low acidity with slight fruitiness.
Body
Sweetness
Acidity
Bitterness
Brand Crema
Product number

1365
250 g
whole beans or ground
single origin
Similar coffees
---
Our customers also bought
Customer reviews
Mixed
D.I.
A strange compost-type smell when opening which was a little off-putting. This later seemed to migrate to a fusty tobacco-type smell, reminiscent of pipe tobacco stored in old metal tins! Maybe it was the ready-ground coffee versus Aeropress, but I struggled to find a real wow-factor and taste sensation as many reviews have suggested there should be. It was not bland per se, but not bursting with flavours and delicate tastes either. Slowly "grew" but unsure it deserves the label's description so far as "...literally bursting with flavour". It was used well within its best-before date too.
Missä tuotekuvaus
J.G.
Tuotekuvausta ei juurikaan ole.
Laadukasta kahvia.
Melko vaaleaa pahtoa. Ei hapokas, Makeahko, kermainen maku.
Java❤️
J.S.
Mahtavan pehmeä kahvi, ilahduttaa minut joka aamu👌
Crema Indonesia Java 250 g
E.Ö.
I do not like this coffee. Or my brewing method might be wrong.
hyvää peruskahvia
J.L.
Hyvää peruskahvia, käsijauhimella ja V60-pouroverilla tehtynä
Hyvä joka päivä kahvi minulle
K.N.
Hyvä ja vahva maku, silti pehmeä ja helppo juoda, taita olla minun uusi Coffee-to-Go kahvi :-)
Ihan OK…
Antti
Ihan OK, mutta ei säväyttänyt mitenkään erityisesti. Käytetty Aeropressin kanssa.
Crema Indonesia Java 250 g
Loistokahvi!! Aivan mielettömän herkullinen aamujeni täydellistäjä!
3/5
Good Coffee
Hyvää kahvia kriittisellekin kahvistelijalle. Hieman aromikas. Tarpeeksi tuju.
Perus vahva iltapäiväkahvi
Gahve
Miellyttävän maistuva, kevyenpuoleinen tumma paahto, joka sopii varsinkin iltapäivän kahvihetkiin.
Java
Jiihaa
Olipa täyteläinen ja hedelmäinen kahvi, juuri sitä mitä odotinkin. Aamuksvien aatelia.
Uusi suosikki
JDXM
Vakio kahviksi noussut keskipaahteinen. Toimii erittäin hyvin myös jääkahvina.
Nyt on testattu
Päivämäärä oli vähän vanha joten saattoi vaikuttaa kokemukseen. Tunkkainen ja ei kovin miellyttävä. Maito olisi ehkä parantanut makua, mutta kun en sitä käytä niin...
Erinomaista kahvia
jsk
Sopivan tasapainoinen, hyvä maku. Tätä juo mielellään.
Indonesia Java
Laadukas kahvi.
Crema Indonesia Java 250 g
Ihana aamun aloittaja!
Crema Indonesia Java 500 g
M
Edelleen luottokahvini monen vuoden jälkeen, hyvänmakuinen eikä närästä.
Crema Indonesia Java 250 g
Ei huono, muttei erinomainen. Kevyt ja hedelmäinen.
Hyvää peruskahvia!
Eräjorma
Suodattimella, mutteripannulla sekä pressolla.
Crema Indonesia Java pressopannussa
MS
Todella maukas kahvi, tätä juo mielellään.
Erinomainen kahvi
Puudeli
Miellyttävä kokemus. Jauhettu kahvi näytti jotenkin "hiutaleiselta", mutta makua se ei haitannut. Tykkäsin tästäkin.
Crema Indonesia Java
VP
Maku jäi valitettavasti ohueksi ja lisäksi kitkeräksi.
Karvautta omassa suussani oli liikaa täyteläisyyden puutteeseen nähden.
Vähän pliisu
LL
Vähän mauton ja aavistuksen karvas, ei parhaimpia javoja mitä on tullut maisteltua.
Ihanan pehmeä maku
Käytössä maitokahvina (lattena) ja on hyvää! Niin pehmeä maku että :)
Crema Indonesia Java 1 kg
Java indonesiasta on tullut perheellemme EHDOTON suosikki!!
Todella hienon makuinen kahvi niin mustana kuin maidonkin kanssa
ja laatu ei ole pettänyt vielä kertaakaan; siinäpä aito tuorepaahto kahvi,
jota voi syystä suositella. Palvelustanne ei todella löydy mitään moitittava,
siispä ISOT KIITOKSET!!
loistava
M
Ainoa kahvi joka ei munlaista herkkämahaista närästä ollenkaan. Tämä on vakiotilauslistalla.
Hyvä peruskahvi
Tämä menee kategoriaan "ihan hyvä". Miellyttävän makuinen, muttei mitenkään erityisen maukas tms.
Valmistettu Clever Coffee Dripperillä.
Pehmeä maku
Lattekahvina hyvän kahvimaidon kanssa on tooooosi hyvää.
Pannukahviksi hankittua
Ostin pannukahviksi retkelle ja maistui erinomaiselta.
Crema Indonesia Java 500 g
On maistuvaa
Ihana pehmeä maku
Lattena toimii!
Entinen suosikkini
Oli ennen kahvi papuni nro.1 hyvä ja maistuva.
Crema Indonesia Java 1 kg
Hyvä aamukahvi
Makunautinto
Kaikille jotka tykkäävät juoda kahvinsa mustana (tai maidolla), suosittelen tätä suuresti!!!
Crema Indonesia Java 1 kg
Oikein hyvää, vähähappoista
Crema Indonesia Java 500 g
Oikein hyvää, vähähappoista
Crema Indonesia Java 1 kg
Oikein hyvää, vähähappoista
Crema Indonesia Java 500 g
Hyvä kahvi. Aluksi tuntui vähän vaisulta, kun on tottunut juomaan tummapaahtoisia, mutta vähitellen alkoi löytyä miellyttäviä makuvivahteita. varmasti erinomainen ns. yleiskahviksi.
Crema Indonesia Java 1 kg
Hyvää palvelua sekä informatiota siitä mikä on juuri minulle sopivaa kahvia.Käyn jatkossa myös hakemassa lähes viikoittain.
Tasainen ja maukas
Tasapainoinen maku
Hyvää kahvia ☺
Tätä hieman normi papujen sekaan ja kyllä maistuu
Crema Indonesia Java 250 g
Erinomainen tumma kahvi
Peruskahvi
Paahtoaste saisi olla mielestäni aavistuksen tummempi, muuten ihan kelpo Java.
Pehmeä, hellä maku
Ei moitittavaa, tilaan tätä lisääkin!
Crema Indonesia Java 250 g
Pehmeä ja hyvännakuinen
Erinomaisesti toimiva verkkokauppa.
Eipä ole muualta kahvia ostettu.
Palaute
Erittäin pehmeä ja miellyttävä "jokaiseen hetkeen" maku!
Crema Indonesia Java 1 kg
Hyvä peruskahvi ei liian tumma. Asiakkaat pitäneet tästä.
Crema Indonesia Java

Java on ollut kauan eräs suosikeistani,mutta löydettyäni nyt nämä
tuorepaahdetut tämä on jäänyt hiukan "pliisuksi".

Tosi hyvä kahvi
Crema Indonesia Java:ssa on paljon makua olematta silti liian vahvaa. Kuten muissakin kahveissa Cremalta tässäkään kahvissa ei ole kitkerää jälkimakua niin kuin markettejen kahveissa.
Crema Indonesia Java 250 g
Hiukan mieto sekoitus minun makuuni muuten mukavan makuinen kahvi.
Aromikas kahvi
Mukavan aromikas kahvi pressopannulla valmistettuna ja maidon kera nautittuna.
Hyvä arkikahvi
Monikäyttöinen arkikahvi.
Crema Indonesia Java 500 g
miedonmakuinen
Crema Indonesia Java 250 g
Hyvää kahvia! Tuoretta ja maistuvaa.
Maukas
Sopii arkeen ja viikonloppuun.
NAM!
Tästä tuli suuri suosikkini. Järjettömän hyvä, meidän perheessä lähes sunnuntaikahvi. Pehmeä, taivaallinen, helppo.
Tosi hyvää
Ostin pussin työpaikalle, ja kaikki jotka maistoivat tykkäsivät.
Suosittelen
Todella hyvää kahvia!! Hiukan jäi osa pavuista turhan karkeaksi (oma moka) ja valutinkin kahvin kahdesti suodattimen läpi, mutta maku oli erinomainen.
En ole tajunnutkaan mikä ero on kunnon kahvilla ja sillä, mitä kaupassa myydään valmiiksi jauhettuna (ja kuukausia vanhana....)
Hyvää pressopannussa
Suht hieno jauhatus + pressopannulla vahvaa kahvia + maitoa = tosi hyvää
Hyvä!
Maukas mutta pehmeä kahvi.
Huippuhyvää
Mukavan mausteinen kahvi. Creman toimitus jälleen nopea.
Crema Indonesia Java 1 kg
Mukavasit makua, ostan uudelleen
Crema Indonesia Java 500 g
Ihan törkeen hyvää. Tummaa ja täyteläistä, paksu mutta ei tylsä maku. Iltapäiväkahvi.
Gott Kaffe
M.L.
Fantastiskt gott kaffe. Kommer absolut att köpa det igen.
Gott
Åsa carmesund
Bra påsar gott kaffe!
Mörk men platt
HS
Känner inget speciellt alls för detta kaffe. Mörka toner, visst. Men ingen fyllig arom eller karaktär. Bryggt i aeropress vid 92C. Arvid Nordqvist Reko är bättre till under halva priset.
Favorit
Mörkt och mycket gott kaffe