Crema Brazil brings the samba tunes to your coffee table!
The slow and smooth roast brings you a coffee with sweetness and an aftertaste of caramel. You can also find tones of dark chocolate in the coffee.
Crema Brazil can be enjoyed with or without milk. Why don't you go ahead and have another cup!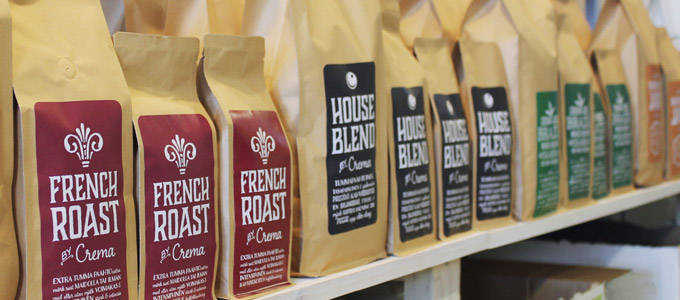 Crema's Own Coffees
Our own coffees are high-quality alternatives for those who value a good cup of coffee. For more than a decade we have listened to our customers' wishes and thoughts about how good coffee should taste.
Based on our experience with our customers, we have developed our own tasty coffee selection.
Crema's coffee is roasted by hand, always in small batches to ensure the best quality.
Taste profile
Soft nutty sweetness and low acidity.
Body
Sweetness
Acidity
Bitterness
Brand Crema
Product number

1540
1 kg
Whole coffee beans or choose grinding
Single origin
Similar coffees
---
Our customers also bought
Customer reviews
Revelation
K.J.
I usually buy your house espresso mix, to have as espresso, latte, cappuccino or cortado, but decided to try something new with your Brazilian coffee

Wow, what a difference!

This coffee is smooth, creates a thick velvety Crema, and is so easy to drink, very little acidity if any, just an explosion of pleasure!


Aromikas kahvi
A.O.
Crema Brasil on maistunut aamukahvina Aeropressillä valmistettuna.
Pehmeän makuinen kahvi
K.A.
Pehmeän makuinen.
Missä tuotekuvaus
J.G.
Tuotekuvaus on niin suppea, ettei tiedä mitä saa.
Laadukasta kahvia.
Melko tummaa paahtoa. Tupakahkoinen maku.
Crema Brazil 250 g
P.N.
Hyvä peruskahvi. Ihan maukas. Tein AeroPressillä terassikahvit tällä. Lähtee työpaikalle mukaan, saan sitten sielläkin kunnon kahvit.
Ei niin paljoa makja
J.L.
Olisi olettanut olevan oikeasti enempi makua mutta ei ollut ihmeempi. Ihan ok perus kahvi
Pavut rikkinäisiä
Ilkka
Pavut olivat hyvin rikkinäisiä, siis puolikkaita/murtuneita papuja hyvin suuri osa. Ei antanut kovin hyvää laatuvaikutelmaa.
Chocolate aroma
E.Ö.
if you like chocolate aroma, then this is right choice.But you should add coffee bean type, roast date and farm informations on the package
Crema Brazil 250 g
M.M.
Pakkausta ei ole vielä avattu. Käytössä aiemmin hankitut kahvipavut.
Crema Brazil 1 kg
J.P.
Aika mukavan makuinen kahvi, osuu maku minun tykkäämälleni tummien paahtojen alueeseen.
Brasilia
j.H.
Todella hyvä
Maistui
Tiia
Vein vanhemmilleni tuliaisiksi, tykkäsivät.
Äitini uusi lempikahvi
Tätä oli pakko tilata lisää, sillä äitini ihastui tähän ikihyviksi. Tätä löytyy varmasti monesta joulupaketista tänä vuonna!
Ei oikein hintansa väärti
Elina
Peruskahvi. Melko vahva "rasvaisuus" maistuu, muutoin maussa ei mitään huomiota herättävää. Hintaansa nähden keskinkertainen kahvi.
Suosittelen!
Tuija
Täyteläinen, vahva, suklainen, pehmeän aromikas. Huippulöytö omien toiveiden mukaan Creman ammattilaisen avulla!
Viisi tähteä
Pekka K
Tämä oli yksi synttärilahja-kokoelman kahveista. Kovasti oli mieluisa. Pressopannu ja cafe au lait. Suosittelen lämpimästi Creman omia papuja.
Hyvät maut, pehmeä, ei "kitkeryyttä"
Peltzi
Oikein hyvä peruspapu.
Pehmeä kahvi
AJM
Hyvää pehmeää kahvia jossa runsas maku.
Varma valinta
Tilimies
Tämä laatu on lähes jokaisessa tilauksessani.
Kohtuu kahvi
Kahvittelija
Suodatinpannus ihan jeppis perus brazil. Aeropressis jäi valjuksi tai sit en vaa osannu.
Hyvää kahvia
Mama
Hyvää on kahvi.
Loistava Brazil
Tämä on yksi parhaista! Maistuu lattena erinomaiselta. Kuuluu meidän perheen vakiovalikoimiin.
Korruptio
sheikit
Italialaistyyppinen, kitkerähkö. Puuttuu Mokkamestareiden paahtojen pehmeys.
Hyvää makunautintoa
Maukasta kahvia eikä liian tummaa / väkevää
Crema Brazil 250 g
Tuula
Taattua laatua, pehmeän- ja tasapainoisen makuista erinomaista kahvia
Crema Brazil 250 g
Maukas vaalea paahto.
Todellakin sambaa makunystyröille!
Kaisa
Toinen suosikki (Miscela d'Oro Grand Aroman rinnalla). Erinomainen hinta/laatu-suhde: tumma, pehmeä ja täyteläinen. Sopii sekä maitokahveihin että ilman.
Hyvää peruskahvia!
Eräjorma
Suodattimella, mutteripannulla sekä pressolla.
Hyvää kahvia
Kahveeolee
Erittäin peruskahvi!
Crema Brazil 250 g
Todella hyvää kahvia!
Crema goes Brasil
Tavallinen kahvinjuoja
Erittäin hyvää kahvia, jos pitää perinteisestä suodatinkahvista.
Crema Brazil 1 kg
hyvää, tilasin lisää
Crema Brazil 500 g
Hyvä ja tasapainoinen kahvi.
Paras
Nasmiina
Tätä olen ostanut ennenkin. Hyvä maku, tyypillinen Brasilialainen. Kilosta riittää päivittäisessä käytössä.
Crema Brazil 1 kg
Helppo ja pehmeä kahvi
Hyvä arkikahvi.
Creman tilaus- ja asiakaspalvelu pelaa moitteettomasti. Useita vuosia asiakkaana eikä kertaakaan negaatiivista teknisestä puolesta, toimituksesta tai palvelusta. Joskus olen ostanut kahvia josta en ole niin pitänyt, mutta sitä sattuu kun kokeilee uutuuksia.
Hyvää kahvia
Suodatinkahvina maidon kera oikein mainio
Peruskahvi
Arkilattekahvia meillä. Ei mikään supersuperhyvä, mutta ei missään nimessä pahakaan.
Crema Brazil 500 g
Näin noviisina maistui yllättävän kitkerältä. Epäilin että onko paahdettu liikaa.
Keskinkertinen
Toivoin parempaa, aika mitäänsanomaton mun suuhuun.
Crema Brazil 500 g
Selkeät toimivat sivut ja nopea toimitus. Parasta!
Ja kahvikin on hyvää :)
Erinomainen makuu
Huippu kaffe aloittelijalle ainakin.
Pehmeä Brazilialainen
Hyvä papukahvi
Crema Brazil 500 g
Aloittelevan kahviharrastajana pakko sanoa, etten näin pehmeää ja suunmukaista kahvia ole saanut koskaan. Tästä se itsejauhetun kahvin nautiskelu alkoi!
Crema Brazil 500 g
Nopea ja luotettava toimitus
Crema Brazil 250 g
Hieman kitkerää, ei minun makuuni.
Pehmeän makuinen
Crema Brazil on meidän makuun sopiva: tumma mutta pehmeä kahvi, joka sopii hyvin niin maidon kanssa kuin ilmankin nautittavaksi.
Crema Brazil 500 g
Todella hyvää papukahvia, pehmeä ja täyteläisen makuinen. Tykkään ja suosittelen!
Paras aamukahvi EVER
Toistaiseksi mielestäni paras aamukahvi, mitä töihin tullessani Aeropressillä teen.
Pistää hymyilyttämään
PIti heti pistää kilon jööti tilaukseen, kun tämä 250-grammainen testierä meni niin nopeasti. Käsittämättömän pehmeä ja miellyttävä maku. Aina tekisi mieli mennä väsäilemään toinen kupillinen, kun on saanut ensimmäisen höräistyä.
Maukas kahvi
Erittäin kevyt ja herkullinen kahvi, hyppäsi kärkikahviksi ja meinaan tätä tilata myös jatkossa. Iso käsi myös Cremalle salamannopeasta toimituksesta. Kiitos!
Loistava
Tästä tuli uusi suosikkini.
brazil on hyvää
ihan maukasta kahvia.
Crema Brazil 1 kg
Pehmeän makuinen
Herkullinen kahvi
Valmistin kahvin käyttämällä clever coffee dripperiä ja ainakin sillä tehtynä kahvi oli oikein hyvän makuista ja jälkimakukin miellyttävä. Tätä pitää ostaa uudestaankin...
Hieman perussumppia parempi
Ei mikään maistelukahvi, mutta oikein hyvä päivittäiseen käyttöön suodatinkahvina.
Crema Brazil
Tosi hyvää kahvia!
Crema Brazil 500 g
Ihanan pehmeä kahvi! :)
Crema Brazil 500g
Oikein mainiota kahvia, voin suositella lämpimästi. Kiitos myös nopeasta toimituksesta ja erinomaisesta palvelusta.
Pehmeä ja täyteläinen
Hyvä täyteläinen paahto.
Crema Brazil 1 kg
hyvää kahvia. mukana jokaisessa tilauksessani.
Crema Brazil 250 g
Pehmeä hyvä maku. Sopii ensimmäiseksi kupilliseksi aamulla.
Crema Brazil 250 g
ihan hyvä, mutta tottunut ehkä hiukan tummapaahtoisempaan kahviin
Hyvää kahvia
Innostuin hankkimaan kahvimyllyn ja sen jälkeen tietysti kahvipapuja. Crema goes Brasil on minun makuuni täydellistä suodatinkahvia. Viimeksi tilasin paketin verkkokaupan kautta mökillemme. Toimitus oli nopea ja sujuva, hain kahvini paikallisesta kyläkaupasta, jossa on asiamiesposti. Melkein kuin kaupassa kävisi.
Crema Brazil
Täyteläisen makuista kahvia. Nopea toimitus ja ystävällinen palvelu. Unohdin tilata aeropress suodattamia, mutta sain ne kuitenkin samaan tilaukseen, kiitos!
Crema Brazil 500 g
Oikein hyvää ja voi suositella
Samba
Herr Nilsson
Mycket smakrikt och perfekt efter uteliv i ruggigt väder
Mycket gott kaffe!
Marie
Järregott kaffe!
Vi maler alltid våra bönor själv. Det ger mycket finare kaffesmak.
Crema Brazil 500 g
Mild god smak men alldeles för svag
Perfekt för cold brew
Johan
Körde dessa med Hario Filter-In Coffee Bottle; nöjd!
Gott kaffe
Robert Gustafsson
Maler själv och det smakar kanongott
Nja Brazil som kaffe är inte samba
SL
Det här kaffet får det inte alls att bli samba i kropp och själ. Det är som vilket köpekaffe som helst i de vanliga affärerna och har ingen speciell brasiliansk karaktär vilket ni som varit i Brasilien känner direkt. Det skulle inte må dåligt av att rostas lite kraftigare kanske. Jag kommer att ge bort de påsar jag köpt till vänner som också får testa men hur jag än älskar Brasilen, samba och musiken där så kan jag inte känna igen detta kaffe som ett brasilianskt kaffe, nej mer som ett trist Gevalia
Helt OK
ErikP
Tyckte inte om kaffet först, men det har vuxit. Inget vardagskaffe, men bra på lördagsmornar.
Njutbart
Ett smakrikt och gott kaffe